If you visit Svigals + Partners, it's Debbie's warm, welcoming smile that will greet you. With us since 2009, Debbie came to us with a strong administrative background after years spent running several offices. She was immediately impressed by our "overall vibe," recognizing she had found a place where employees are treated with respect, and their ideas listened to.
Debbie quickly adapted to the world of architecture, learning its ins-and-outs. She began right away to tackle her work with gusto, whipping our office into shape. In addition to overall office management, she works closely with our Finance Director, on various accounting tasks. 
Debbie counts interactions with fellow employees and clients among the things she likes best about the job. A Connecticut native, she wants to travel the world and loves to go for long walks with her dog along the CT State Bridal Path near her home.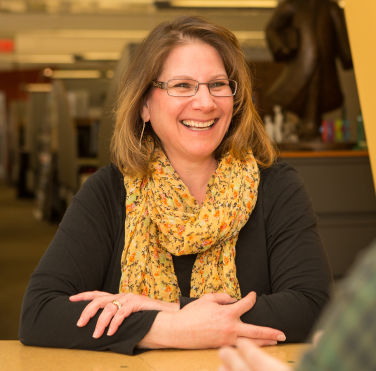 ---
What You Might Not Know
Debbie's home is a beacon for wayward animals: she has one dog and four housecats plus she feeds four cats outside along with birds, squirrels and whatever else shows up, but humans are invitation-only.
Debbie has a degree in Zoology and her first job right out of college was working for the CT DEEP on a fin fish study. She trawled the Long Island Sound for 6 months no matter what the weather.