« Back
Inspiring Productive Playgrounds
June 24th, 2018
---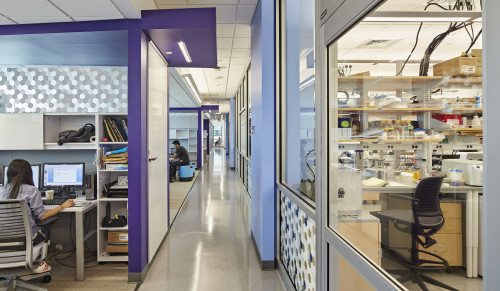 Branding a lab is one way to make labs into "productive playgrounds", or places that inspire and energize people, while becoming a home for scientific research. These productive playgrounds are serious places where innovation and creativity are nurtured.
Productive playgrounds are places where optimism, inventiveness and collaborative spirit drive R&D entrepreneurs to new discoveries and expansion.
However, productive playgrounds require cultivation and care to remain vibrant. And architects must create a place where researchers and people want to stay and work long hours. The labs must be safe, fun and comfortable. Overall, they must reflect a home away from home.
Overall, branding is an effective dimension of lab design that helps improve performance in many ways, and it helps instill the spirit of productive play.
At the new West Campus that Yale has developed, we worked with the research teams to create a brand identity for the Systems Biology Institute, a group working on cutting-edge projects. The honeycomb imagery was very appealing, a geometric pattern that occurs in nature at various scales, but also appears in chemistry formulas. Abstracted geometric forms can be an effective branding element.
Branding the next-generation lab facility
The use of branding—often combining artwork, graphics and amenities—helps establish and reinforce an organization's work culture and scientific mission. It contributes to the connectedness people feel, both to the space and to what they do together: their mission, the organizational vision, and their home for research. Visual branding is an element that ties them together, helping people stay on the same page and the ability to work and think as a team.
These branding techniques tend to require a relatively small investment compared to the costs of lab construction or benches and equipment. Yet, they can yield surprisingly powerful dividends, often including the accelerated achievement of breakthrough science.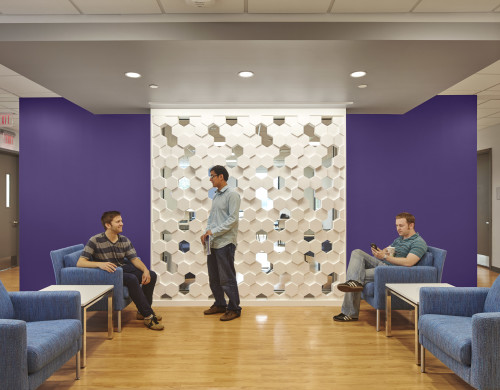 All new lab spaces should incorporate branding in every way possible. And new workspaces should include amenities, such as artwork, cafes and meeting spaces for informal collaboration, as well as locker rooms and showers. These are more than mere conveniences, they have been shown to create a more effective workplace.
Sustainable elements such as ample natural daylight, outdoor views and natural finish materials—like wood—can make the workplace more desirable and enjoyable for researchers.
More Posts
Posted in the category
All
.

Categories
Contributors
Recent Articles
There are no articles posted this month.
Archive